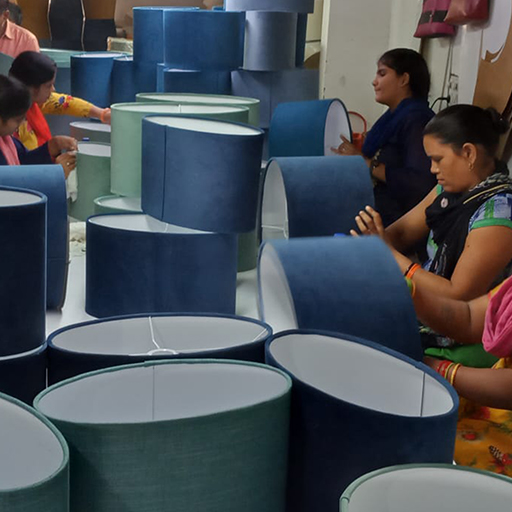 PineCraft International was established in 2016 by R K Tripathi, who left a successful construction and interior décor business of 20 years to start a lighting company.
It all started when R K saw a rise in India's lighting and home décor market, but the consumers did not have many options to choose from. On the other hand, skilled workers who were making lighting products lacked direct access to the market. With over 20 years of business knowledge and in-hand experience in the field, it was not difficult for him to understand the problem. India did not have any significant lighting brands that could take care of its growing needs.
With this idea, R K Tripathi started PineCraft International to manufacture the finest quality exotic lighting products. The goal was to bring global design, trends, and exquisite craftsmanship to the Indian audience.
We started as a small lighting company primarily focused on manufacturing lampshades. Our first manufacturing set up was a modest 600 sq ft in size with an initial manufacturing capacity of just over 1,000 lampshades every month. We were distributing our products to local retailers. Gradually we expanded our operations, and soon we were supplying our products to over ten different states across India. We initially manufactured products keeping Indian consumers in mind but quickly expanded to bring in exotic designs worldwide to make them available for the Indian consumers.
Fast forward to 2021, PineCraft International is one of the fastest-growing lighting manufacturers in India. Now with a manufacturing unit of  10,000 sq ft, we have expanded our annual production capacity to over 250,000+ units and have more than 1000+ SKUs under our belt. We are supplying to over 150+ retailers worldwide. We are now delivering to over 3000+ cities and towns in India.
At PineCraft International, we are committed to empowering artisans and the culture of handicrafts. The majority of the workforce in our manufacturing unit comprises women responsible for handcrafting our products end-to-end.
We have established ourselves as the go-to manufacturers for lamps and lampshades in the lighting industry. PineCraft International has now become a top choice of retailers, hoteliers, and interior designers from more than 35 nations – covering all major markets like North America and Europe, who trust us with their lighting needs. We are known for our custom manufacturing, superior quality, and our invaluable knowledge in the industry.
We bring design, innovation, and technology to manufacture world-class lighting products, helping customers experience luxury like never before. We strive to manufacture lighting as a luxurious attraction for your home.
With more people getting aware of the impact lighting has on a home and its aesthetics, PineCraft International is at the forefront of making a change happen with the finest lighting products handcrafted to suit the needs of Indian consumers.
PineCraft International is India's truly direct-to-consumer lighting brand.
Quality
At PineCraft, we are dedicated to the highest standards and quality of products we manufacture. We train our craftsmen to adhere to universal quality standards.
Innovation
Innovation is a key pillar of our identity, and we strive to use technology to make best-in-class lighting products.
Customers & Community
Our customers are at the center of all we do at PineCraft. All our initiatives are customer-centric, and we strive to establish a long-term relationship with them. We also understand our responsibility towards the community, and we believe in delivering more than we take.
Craftsmanship
We take attention to detail very seriously, and we manufacture every product with the highest care.  All of our products are manufactured and delivered with pride, sincerity, and love.